Here is my poem version of Psalm 3. (You might want to start at the beginning of our Psalter Project, or see all the psalms I've posted so far.)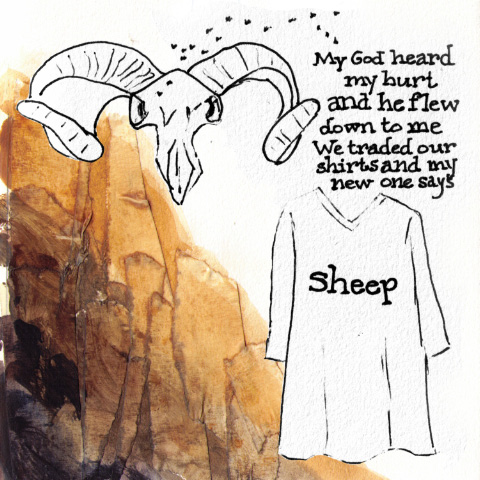 I am my own worst enemy.
God, swarms of fears are biting me:
Voices that say I'm failed, corrupted,
A goat with delusions–not yours, not really–
God won't be coming back for me.
But you are my ego, my health, and my breath,
Like the old giant's heart, he put safe in an egg.
He could roar, he could stomp, and he could not be killed.
My God heard my hurt and he flew down to me;
We traded our shirts, and my new one says, "sheep."
In that shirt I can sleep through the roar of illusions.
I can sleep when I've screwed up, and lost my delusions.
I can sleep when my self-walls are crumbling apart:
They'll never find my external heart.
I can sleep 'cause I know in the morning, I'll rise.
Get up God, get up, it's morning!
Smash up my pain and wet it with spit.
Build me new walls from the mud of those wounds…
You always win; you spit darkness to light.
Hold on to your people, hold on.
-Heather Larson